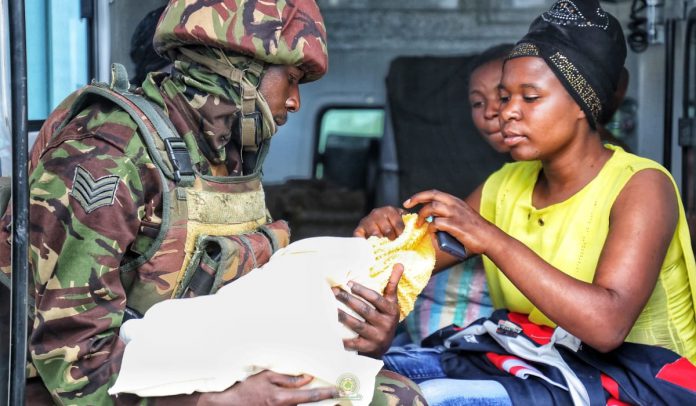 Kenyan troops serving under the East African Community regional force (EACRF) demonstrated their commitment to humanitarian efforts in the Democratic Republic of Congo (DR Congo) by providing vital medical aid to an expectant woman in Kibumba, a locality in eastern DR Congo.
The troops promptly transported her to Kinyaruchinya Health Center, where she successfully delivered her child.
Expressing their dedication to supporting the local community, the troops also facilitated the woman's safe return home and extended their assistance by providing essential food supplies to her family.
This compassionate act garnered appreciation from the grateful family, as highlighted in a tweet by the EACRF on Friday, May 26.
The East African Community regional force emphasized its ongoing commitment to enhancing civilian protection, establishing secure supply routes for the unhindered movement of people and goods, and contributing to humanitarian assistance.
These efforts are integral to the joint operation area's socioeconomic development and the pursuit of lasting peace and stability in eastern DR Congo.
Deployed in November 2022, the EAC regional force operates with the mandate of supporting the peace process in the region.
Since their arrival, the troops have made significant strides in reclaiming control of territories previously occupied by the M23 rebel group.
Comprising personnel from Kenya, Uganda, Burundi, and South Sudan, the EAC regional force has successfully secured numerous areas previously held by the rebels.
Eastern DR Congo has long been plagued by the presence of over 130 foreign and local armed groups, which have been responsible for heinous acts of violence.
The region has experienced ongoing volatility for nearly three decades, despite various interventions, including the presence of the United Nations' largest peacekeeping mission in the country, MONUSCO.
In a further effort to combat armed groups and restore security ahead of national elections scheduled for December, the Southern African Development Community (SADC) recently announced its plans to deploy troops to eastern DR Congo.
The compassionate actions of the Kenyan troops serve as a testament to their dedication in providing critical assistance and support to the local population, contributing to the ongoing efforts to foster peace and stability in DR Congo.