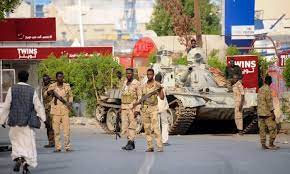 Residents of the Sudanese capital Khartoum, have reported more fighting between the army and the paramilitary Rapid Support Forces (RSF).
It comes despite US sanctions imposed after the collapse of a humanitarian ceasefire.
People in the city said the army had resumed air strikes and was using more artillery, but with no sign that the RSF was retreating from the streets and homes it has occupied.
The military announced it had brought reinforcements to the capital from other parts of Sudan.
Analysts say the armed forces are expected to launch a massive offensive to clear the paramilitaries from the streets.