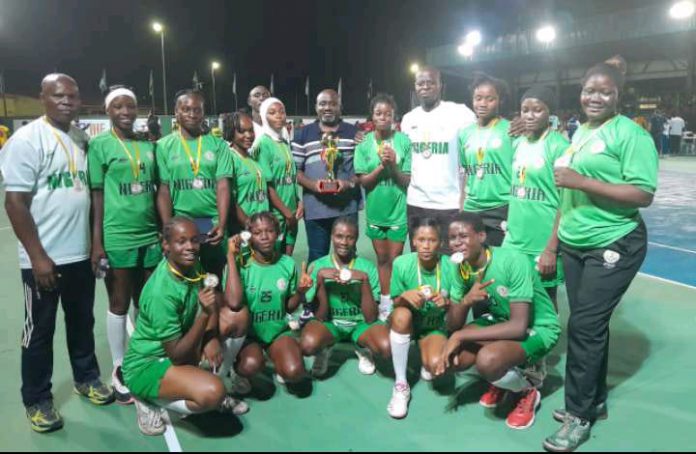 Nigeria's U18 girls were on Saturday, crowned champion of the IHF Women's Trophy Africa Zone 3 Phase after defeating Benin Republic in Accra, Ghana.
The fans at the Tennis Arena of the Accra Sports Stadium, were in awe of Coach Shittu Agboola Adewunmi's tutored girls as they conveniently earned a 42-17 victory over Benin Republic with goalkeeper Babatunde Kehinde getting the Most Valuable Player (MVP) of the match for a wonderful performance. She is the twin sister of Babatunde Taiwo who got the MVP in Nigeria's first match against Liberia.
Thus, Nigeria qualifies for the IHF Women's Trophy Continental Phase, winning four matches without losing any game in the competition.
Also, Nigeria's Esther Matthew was voted as the Most Valuable Player of the championship while Goalkeeper Precious Samuel was picked by organizers as the Best Goalkeeper of the competition
President of the Handball Federation of Nigeria (HFN) Mr. Samuel Ocheho, who is in Accra in his capacity as the president of IHF Africa Zone 3. said he is excited that the development programmes of the HFN to discover talents are yielding dividends.
"I am super excited that the programmes of the HFN to discover players through our underage competition are yielding dividends.
"This is a testament to the successes of our programs and we will continue to ensure that we continue to development of the game and its continued growth," Ocheho said.
Nigeria will represent Africa Zone 3 the continental phase of the IHF Trophy Africa phase in a yet-to-be-announced host country in a few months.