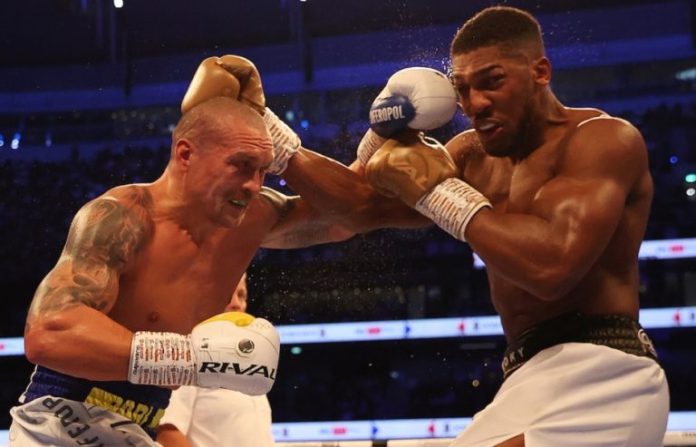 Tony Bellew is backing Anthony Joshua to look a different fighter when he faces Oleksandr Usyk for second time. Boxing appears set for a huge summer and right at the centre of that is a potential heavyweight rematch between Oleksandr Usyk and Anthony Joshua. That scenario looked a million miles away just a few weeks ago due to the situation in Ukraine, but with my old rival now looking to defend his heavyweight belts, the second meeting between Usyk and Joshua now appears to be closer than ever.
The manner of Joshua's loss surprised me in their first encounter. Not because of the result, I know better than anyone just how good Usyk is, but more the approach. There were several advantages that I spoke about in the build-up, most notably the size difference, that Joshua could use, but he went in a different direction and that was great news for Usyk. A big change is needed if he's to become heavyweight champion again, but he can do it.
The rise of Anthony Joshua is one of the best British boxing stories of all time. Olympic gold medallist to world champion in the space of a few years along with selling out arenas and stadiums on the journey. His win over Wladimir Klitschko in 2017 was a glorious occasion, one of the best I've been at, and the grit and determination shown in that fight is what I want to see from 'AJ' moving forward.
One thing you can't take away from Joshua is his resilience. He burst onto the scene in 2011 with a silver medal at the World Championships, the toughest amateur tournament of them all. Did he settle for that? No, he was back a few months later to win a gold medal in London showing that he had improved from the previous year and learnt the required lessons to push on.
Look at the Andy Ruiz fight. Down four times on away soil. A horrible moment. A shocking loss that could've signalled the end of some careers, but he rebounds brilliantly six months later to become world champion for a second time. Joshua walks around with so much pressure on his shoulders as one of the main faces of boxing, so I can only praise him for the way he manages to come back from adversity.
If he's to be successful against Usyk and become heavyweight champion for a third time, Joshua has to look at himself and be the man he was against Dillian Whyte and Klitschko. A fighter with a point to prove. For all the wealth and accolades, he has, being world champion is a major priority for him and if he's hungry and prepared to put it all on the line, he can do it.
He must start quick. He has to show Usyk he's the bigger and stronger man, and when he gets success early, he can gain confidence from it. He can't just go in and swing his hands because Usyk is too smart, but you can be smart with pressure, and when you have Joshua's speed and power, believe me, you can get on top against most fighters.
When his back has been against the wall at previous times in his career, Joshua has demonstrated that he's okay in that position. This is a totally different proposition though now he's up against Usyk. The pressure is on him like never before, but he's no stranger to dealing with it. This is a fight where it could all go wrong for Joshua, but if it goes right for him, then there's not really much else you can say about him. He'll be a bigger superstar than he already is.