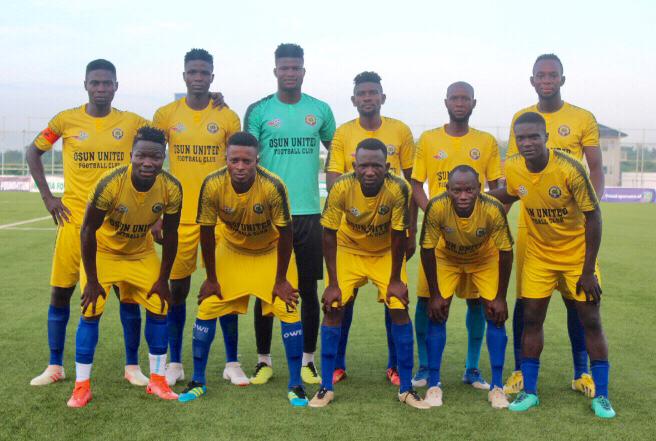 Ojukwu Ifeogwu of Remo Stars became the leading goals scorer in the Ogunjobi Gold Cup pre-season tournament after his team trounced Osun United 4-0.
The rescheduled Group A match, saw Ojukwu shoot a hat trick past a helpless Omoluabi Giants goalkeeper in an early kickoff game hosted at the Remo Stars Stadium.
The Gbenga Ogunbote lads took the game to their opponents and at the quarter of an hour, their fierce attacking play was rewarded with a goal, as Noah Ojuola opened the flood gate of goals with his strike.
Ojukwu Ifeogwu extended the lead with two quick goals for his first and brace in the 33rd minute and 35th minutes to the delight of his team and anguish on the faces of Osun United bench, whose defence wall collapsed owing to the attacking prowls of the Sky Blues Stars.
The newly-promoted Nigerian Professional Football League (NPFL) side then went into the dressing room comfortably with a 3-0 lead, thus leaving the Osun United bench to proffer solutions to its formation.
Osun United then came out strong in the second half, but as they searched for their first goal in the Ogunjobi Gold Cup, they got punished for taking their chances and exposing their backline once again.
This time Ojukwu made no mistake and he put the icing on the cake to hit his hat-trick with a 53rd minute finish.
Remo Stars who topped the Group A log with 3points and with a plus for goals difference will battle second-placed MFM FC in a southwest derby match on Sunday, while Osun United lock horns against FC Yobo.
The country's first pre-Season tournament is sponsored by Optima Energy, and its proudly supported by Alansmith Nigeria Limited, Taiwo Joseph Ogunjobi Foundation, Nigeria leading sportswear firms, Owu, Haggai Sportswear, Afripro, Naija League Magazine, Matchroom, Sports, 11th Media Global Concept, Freestyle Sports, Renewed Hope, Kao Concept, Seyi Akinwunmi Charity Foundation, Dejavu Communication, Olansile Football Academy, TSI Football Academy and ITS Football Management.