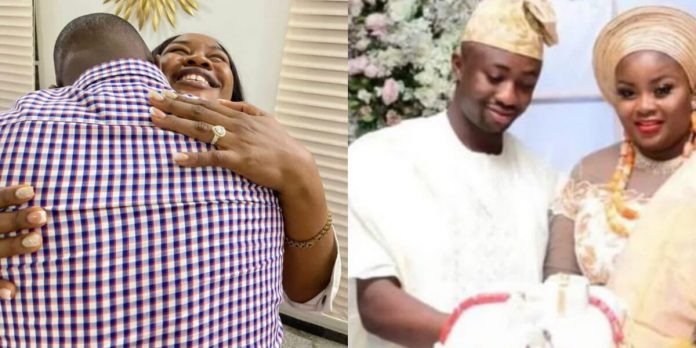 Nollywood actress, Debbie Shokoya has been accused of dating a married man.
It was earlier reported that the actress had gotten engaged to her lover on Valentine's Day.
Controversial blogger, Gistlover alleged that the actress is dating a married man, Lukman Ejalonibu, stressing that Debbie's fiance got married recently and is one of the production crew in most Yoruba movies.
According to the blog, Lukman and his wife had a fight over Debbie after she found out they were having an affair.
However, it was too late to reverse it as Debbie is already pregnant hence why he and Debbie had a low-key introduction.
Gistlover claimed that Lukman appealed to his wife to allow him continue his affair with Debbie as he is only using her for a future political career.
In a surprising twist, Lukman moved out from his matrimonial home into Debbie's house and has been feeding off the actress.
The Instagram blogger accused Lukman of being a blackmailer and for taking nude and sexual videos of Debbie to brag to his friends.
"So my source told me that Lukman and his wife had a fight over Debbie when the wife found out that Debbie was sleeping with her husband, the matter was messy but it was a little too late as Debbie is already pregnant. My source also reveals that Lukman begged the wife that he just need Debbie Shokoya profile to boost his political career in the future. He said he intends to going into politics just like his Boss, Lado of Oguns State and he needs a public figure it achieve his dream. My source further reveals that the wife disagreed and arrested him because they are still legally married before he impregnate Debbie. Family Sha interfere and they had to ola a small introduction to cover Debbie's shame, now what git my attention us my source reveals that apart from the fact that he wants to use Debbie, he is also a serial blackmailer. He takes videos of how he kissed Debbie, how he makes move to her and send sine to his friends bragging that he is the one knacking their favorite celeb, in some occasion Debbie caught and disregarded it. I have some videos as evidence, he has packed his loads and left the house he was living with his legal wife in Arepo estate, he was packed to the 3 bedroom flat that Debbie Shokoya rented by herself and doesn't vi home again, he sometimes cruise around in Debbie Shokoya's venza. The wife has been crying about saying he doesn't take the responsibility of their child and that he recently stole her gold and sold it. The guy has been feeding off Debbie Shokoya".