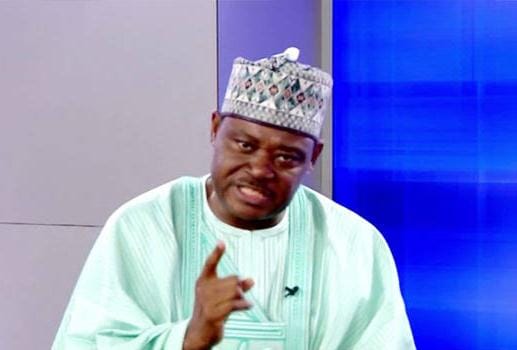 Jimoh Ibrahim, the Senator-elect representing Ondo South, believes that Nigeria has the capability to pay back its debts to other countries within a span of 90 days if the government taps into his knowledge and expertise.
The billionaire businessman expressed confidence, stating that the nation's debt of N77tn should not be a cause for concern, considering the current debt-to-Gross Domestic Product (GDP) ratio of less than 31 percent.
During an interview on Channels TV Politics Today on Tuesday, Ibrahim referred to Dubai's borrowing policy as an example and argued that Nigeria is wasting time by not borrowing more money from creditors.
He emphasized that Nigeria's current debt ratio to GDP allows for borrowing up to 70 percent.
"I can give you a strategy that will help pay back all of Nigeria's debt in 90 days.
Our current debt shouldn't be a big problem or a source of worry for President Bola Tinubu.
What is the debt ratio to the GDP of a country? Nigeria's is currently around 31 percent, which means we have a window of about 70 percent to borrow more money," Ibrahim stated.
Drawing a comparison to Dubai's approach, Ibrahim highlighted that Dubai, with a population of 12 million and 3 million indigenous people, successfully borrowed $167bn to boost its infrastructure facilities.
He suggested that Nigeria could follow a similar path by securing a loan of $100bn from five EXIM bank consortiums with a repayment plan of forty years and a ten-year moratorium.
He expressed confidence that Nigeria's current revenue problem would not hinder its ability to repay the loan.
"What you need to do is call together about five EXIM banks, including China's, and take a loan of about five times what we are currently owing.
Do a bridge gap financing and then pay off what you owe and have a surplus. Prepare a repayment program for forty years and then have a grace period of ten years, and you are out of debt.
With these, you can negotiate with the creditor for a 30 percent discount," Ibrahim explained.
He further suggested that during this repayment period, Nigeria should focus on diversifying its economy and developing a well-defined roadmap for financial stability.
By implementing these measures within ten years, Ibrahim believes that Nigeria can have a holistic plan in place to repay debts and drive economic growth.