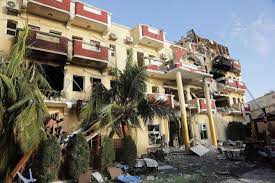 At least six civilians have been killed and 10 others wounded in a six-hour siege by fighters from the armed group al-Shabab at a beachside hotel in Somalia's capital Mogadishu, police said on Saturday.
"Three brave members of the security forces were martyred during the rescue operation," the Somali Police Force said in a statement.
Security forces killed seven attackers from the al-Qaeda-linked rebel group, the statement added.
The attack took place on Friday evening at the popular upmarket Pearl Restaurant, on the capital's Lido Beach.
"Security forces have successfully neutralised the #AlShabaab militants responsible for the terrorist attack on the Pearl Beach Hotel in Lido Beach, #Mogadishu," Somali National News Agency (SONNA) said on Twitter.
"A large number of civilians were rescued during the operation," SONNA said.