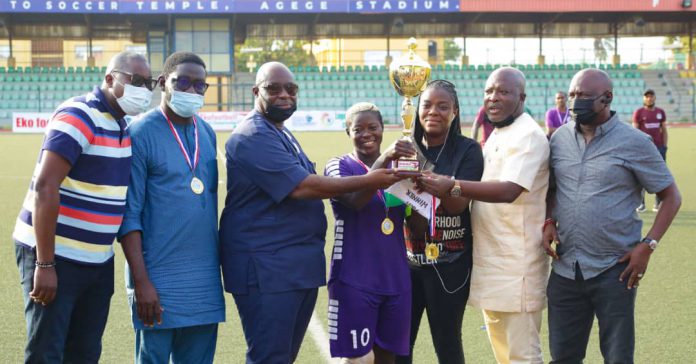 The Chairman of the Lagos State Football Association, Barrister Seyi Akinwunmi, has on behalf of the association congratulated the management and players of Oasis Ladies Football Club of Lagos for winning the first edition of the EkoFootball Queens Championship.
Akinwunmi, who is also the First Vice president of the Nigeria Football Federation, expressed his delight at the standard of play displayed at the finals by Oasis Ladies.
"Their performance in Monday's final was a testimony that their promotion to the Nigeria Women Football League Championship League which is the professional cadre from NWFL Nationwide (Amateur), was not a fluke.
"We in the Lagos FA has resolved to continue to support privately owned clubs in the state especially when they are involved in national competitions. We are pleased to announce to you that all the 24 teams that participated in the EkoFootball Queens Championship 2021 were all privately owned clubs. This is massive and we are happy that it's happening in the Lagos State FA.
"We won't leave the three Lagos clubs that qualified for the NWFL Championship League; Oasis Ladies, Royaltoms Queens and Dannaz Ladies, alone to face the huge task of representing their clubs as Lagos teams, we shall continually give them technical supports to enable them succeed, just the way we did for the two NWFL Premiership teams ; Dream Stars Ladies and FC Robo in the just concluded NWFL Premiership season. We were proud to see FC Robo on the verge of picking a continental ticket to represent Nigeria in the CAF Women Champions League. The experience was worthwhile, and we are sure they will improve on it next season.
"We commend all the officiating officials who made the EkoFootball Queens Championship 2021 a huge success. Our Secretariat staff were marvellous in their assignments and the media did a fantastic job giving us world class coverage from day one to the finals. We appreciate all those that gave us a success story for the EkoFootball Queens Championship 2021," Akinwunmi said.