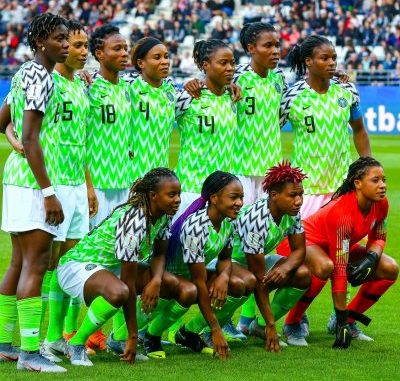 With match tickets officially on sale in United States of America (USA) and across the world via online, the United States Soccer Federation (U.S.Soccer) has started the countdown for the 4-Nation women's football tournament featuring USA, Nigeria, Portugal and Jamaica in Texas the month.
The competition tagged 'Summer Series' will hold from June 10 to 16 with the epic encounter between Team USA and Nigeria's Super Falcons tie slated for Wednesday, June 16, 2021 inside the brand new Q2 Stadium in Austin, Texas singled out as the "Star Match" of the tournament.
It was exclusively gathered that U.S.Soccer and its partners AT&T 5G have put up timeline on the USA versus Nigeria, although the match is 17 days away from Sunday, May 30, 2021.
According to the schedule, there will be Doublheaders on June 10 when USA will first confront Portugal at BBVA Stadium in Houston while Nigeria tackles Jamaica at the same venue.
USA second match in Houston will be against Jamaica on June 13 before heading to Austin to test their power against reigning African Champions, Nigeria on June 16.
U.S. Soccer had a fortnight ago announced it will host the 2021 Women's National
Team (WNT) Summer Series Presented by AT&T 5G featuring the USA; European side, Portugal; North American team, Jamaica and African powerhouse, Nigeria from June 10 to 16.
The match USA versus Nigeria match in Austin at the home of Major League Soccer's newest club, Austin FC, will be the first soccer game at the brand new, state-of-the-art, 20,500 seat Q2 Stadium.
Three nights later on June 19, Austin FC will play its first MLS match at home.
Meanwhile, Super Falcons players are expected to hit Texas from this weekend just as the Nigeria Football Federation (NFF) is intensifying efforts to ensure that invited players arrive in USA in good time to have few days of training before their match against Jamaica.