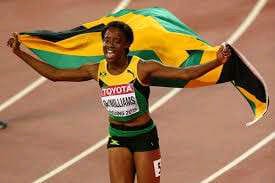 Newly crowned World Athletics champion Danielle Williams has said she will erase the record set by the Nigeria track star Tobi Amusan when they meet in the Diamond League slated for Oregon.
Amusan set a new World Record in the women's 100m hurdles with a time of 12.12s in the 2022 World Athletics Championship in Oregon.
The Nigerian International lost the crown to the Jamaican at this year's event in Budapest and the new champion is already nursing the ambition of surpassing the record when they meet again in the final leg of the Diamond League.
"Funny story, 12.12, the time that Tobi ran to break the record last year, I had a dream a few years ago that the world record was going to be 12.12 seconds.
"I thought it was going to be me who was going to break it, but it wasn't.
"From the moment I started getting competitive in the hurdles, many people told me that I have the potential to break the world record.
"I didn't necessarily believe it at the time. I just thought, you know, you guys are just talking,' said Williams, who has run a lifetime best of 12.32, the second fastest time ever run by a Jamaican woman.
But the more I go, the more I believe that it is in range. And so, I still believe that the World Record is within range.
You know, we're all out here, the essence of track and field is running as fast as you can, and so, I believe that I can run 12.1 seconds. It's just a lot of things that need to be tweaked to get there, but I think I could get there," Williams told Sportsmax TV.