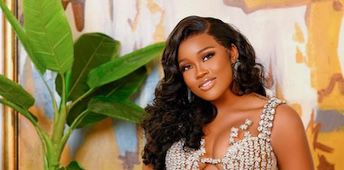 Cee-C wins the final Black Envelope game as she claims immunity on Big Brother Naija All Stars. For this final game, Big Brother had the All Stars housemates search the arena alone for 12 minutes. They were to thoroughly search for five black envelopes which were hidden in the pile of things on the ground.
Cross who already had immunity and Ilebaye who won this week's HOH games didn't participate in the search as a personal choice. This left Adekunle, Pere, Soma, Venita, Angel, Cee-C and Mercy as the contenders for the envelopes.
Cee-C found the last of the five envelopes which was the one with an immunity. Her win makes her an automatic finalist and the third one so far on BBNaija All Stars.
Sadly, Adekunle got a surprise snack, Angel got kuli Kuli, Pere got a bottle of groundnut and Soma got a bar of chocolate.
For the final nominations, housemates were asked to nominate two people for possible eviction this coming Sunday.
Mercy survived the nominations and automatically became the fourth finalist on BBNaija All Stars. However, Adekunle, Soma, Pere, Venita and Angel are all up for possible eviction this week, with the possibility of only one joining the finalist.